We flew out Saturday evening around 10 at night. Lauren and I ended up watching Wolverine which was not particularly good, and then we all tried to get some sleep. 8 somewhat drowsey hours later we landed in Frankfurt Germany. Will decided to celebrate by playing banjo while eating a Frankfurter. The next flight took us to Baku, Azerbaijan where three quarters of the already half empty plane left. We got to stay on and continue to Ashgabat. During the time on the ground we met up with a Turkmen woman who had moved to NY and was coming home for the first time in 3.5 years. She told us a bit about the places we would visit and emphasized that every time she has gone home it is hard to recognise the places she knows because of the rapid development. When we told her we would be touring around performing music she was very excited and so we ended up pulling out our schedule whereupon she promised to meet us in another city for one of our shows!
At this point the flight was so empty that I managed to stretch out completely across a row of four seats and got a bit of rest. Upon exiting the plane (at 12:45 am local time) we were met on the tarmac with signs and a van ride to the Commercially Important Person lounge.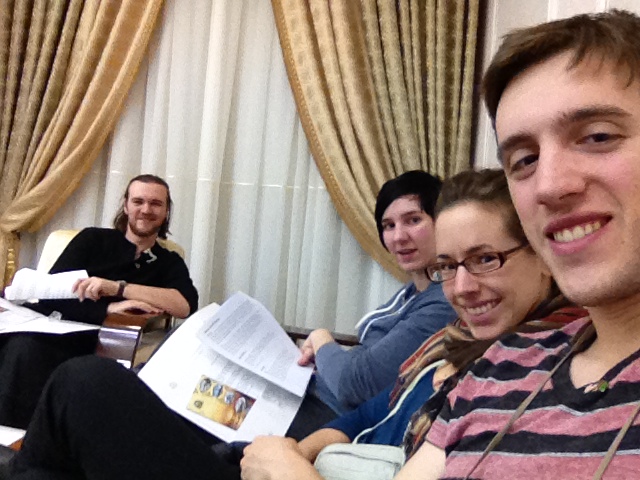 There we were met by the immigration expiditor as well as the ambassador!
Well, the ambassador wasn't there to meet us, but he knew who we were and immediately came over to say hi. After determining that no, our Windborne postcards were not cigarettes, and yes, we did have all the recipts for our two dollar fees, we piled into a van and drove to the hotel. The road on the way there had illuminated white center lines and the most fashion forward bus stops I have ever seen. The hotel was huge and lit up with red lights. We checked in and were given keys with huge metal fobs that could probably knock someone out (we later had a lot of trouble taking them on the plane!) before going to bed.
I woke up at 7 the next morning on jetlag time. John, the director of American Music Abroad, had arrived later than us and called my room at 8 looking for passport photos to take to the immigration office to get our migration stamps. The rest of Windborne got up a few hours later and we had a delicious breakfast in the hotel restaurant including some potato baked into bread which Will fell in love with.
We met up with John in the hotel lobby for a few minutes to talk about some logistics and then the folks from the US Embassy arrived. Mike, the Cultural Affairs Officer came to meet us along with Meylis and Maya, two Turkmens working with the embassy. Everyone was exceptionally friendly and they explained the rough outline of our tour along with some of challenges we would face on the way. The biggest thing it seemed was that the Ministry of Education was currently trying to do some power play by canceling our workshops in the schools. The concerts, which were under the jurisdiction of the Ministry of Culture, were fine, but the workshops were getting cancelled left and right. Meylis even helped us work on the words to Yar Yar, our Turkmen song.
They then took us in search of a music store because Will's homemade banjo bridge had snapped in transit. The first place that we visited was closed, but we ended up finding a huge mall with a music shop in it. John was in shock, as the last time he was here in 2005, there were only little local shops and nothing close to the modern four story mall that we found. I was reminded of my mother's reaction to seeing the change in the Mongolian State Department Store in Ulan Batar during our visit last year, everything was shiny, new, and modern. Not only did we get a new bridge made by filing down a violin bridge, but will bought several new jaw harps and we encountered an electric dutar!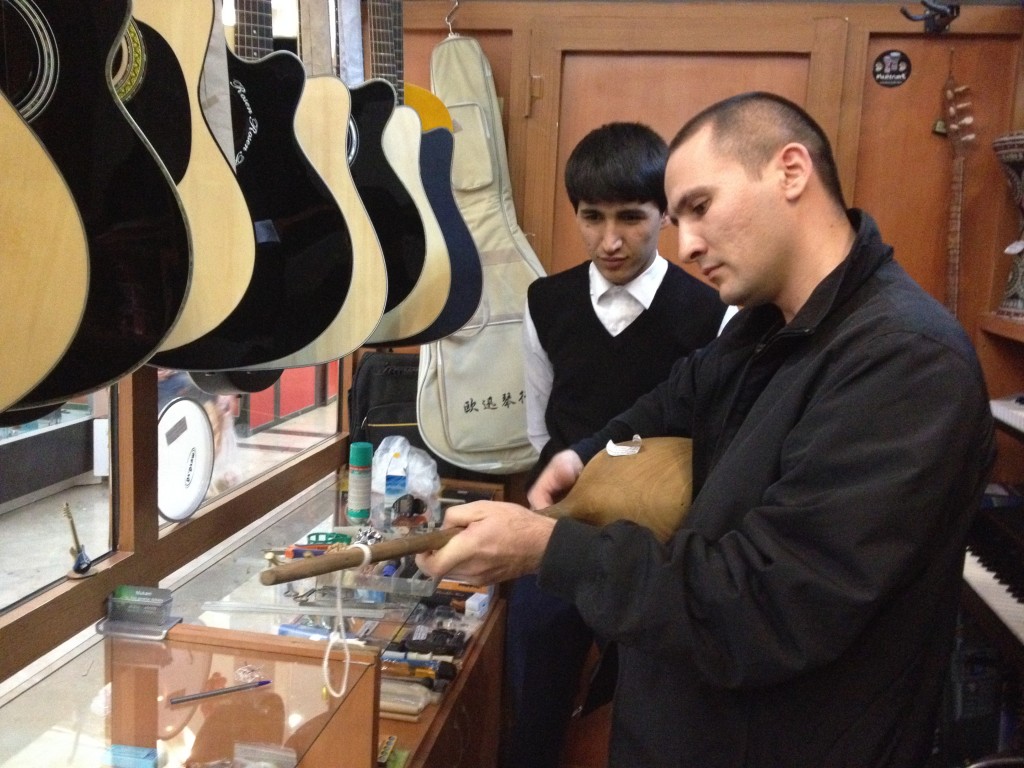 The dutar is a traditional two string instrument from turkmenistan and this particular one had a little door in the body where one could open and insert a 9v battery with two leads. Somehow this was hooked up to a speaker or something because it amplified the whole instrument. Meylis gave us a little concert and then we headed back to the hotel.
We went across the street to the russian bazaar where we bought the "best melon in the world" from a fellow for whom everything was "no problem." We also got some amazing raisons and got to try a bunch of other dried fruits and nuts.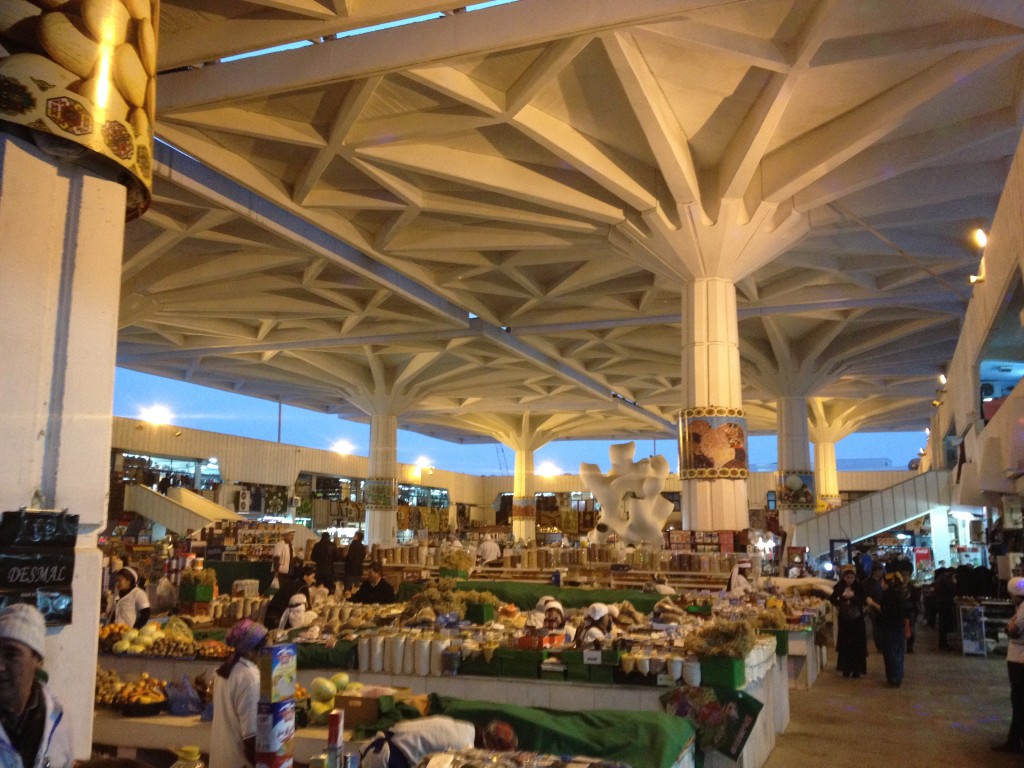 We then headed to a turkish restaurant to meet Mike and his wife for dinner. They both worked in the Peace Corps in Turkmenistan for two years and then later joined the Department of State and came back.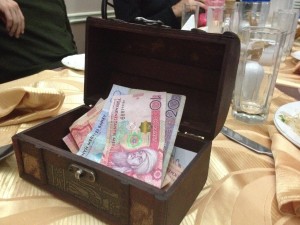 The dinner was great and we drank lots of tea while waiting for our drivers to come and pick us up at the end of the evening. Tomorrow we head out for our first concerts! Keep you updated soon!
Spoiler: The concerts were all amazing!!! But more soon!