Our bags are packed, songs rehearsed, countries briefed, and banjos tuned. Haha, I'm obviously kidding about the last one, but seriously, we are off on a world tour and WE"RE LEAVING TOMORROW! Make sure to Like our Windborne Facebook page and follow along!
I wrote a few months ago about our audition process for American Music Abroad, a program funded by the US Department of State in collaboration with American Voices. We found out a few months afterwards that we were getting to go to Kyrgyzstanand Turkmenistan in central Asia and then down to Angola in southern Africa. Now, if you think about this for a second, this means we get to be in winter in one of the coldest regions (down to -20!) and then summer in a rather tropical climate. Packing has been fun. No, actually what has been really fun has been preparing for this tour with my Windborne bandmates Lauren Breunig, Lynn Rowen and Will Rowen. We got together in Concord in early January and spent a few days rehearsing there and in Vermont.  We had to flesh out our Americana stuff and we ended up putting together a little EP to give out on our tour.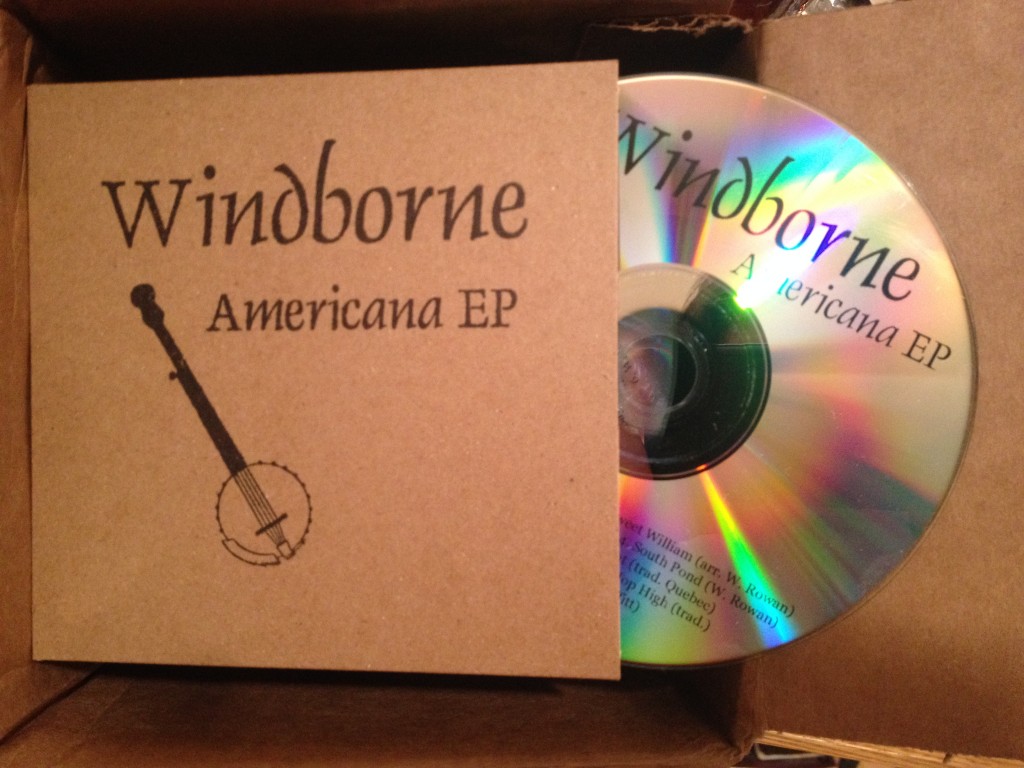 I love these guys and so it was a good time as always, but the real highlight was that I bought a NEW BANJO!!! It is a beautiful banjo made by master luthier Will Fielding who lives just a little ways away in Marlboro VT. It is called the Rooster and is delightful in sound and appearance. I decided to deck out my banjo case as well with flags of the countries I have visited in order of visitation, so i'm pretty excited about that too!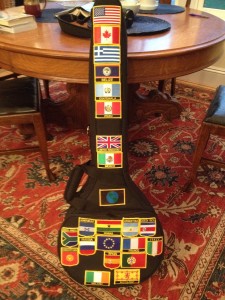 Anyway, we got to do a few concerts around New England, including selling out Hubbard Street Music for the first time ever! We had great audiences everywhere we went and it was so wonderful to really feel the support of our hometown communities as we head out on this tour! Here is a little clip of our last performance in Concord. We will be singing Bring a little water, Silvie and teaching some hambone during some of our educational stops during the tour!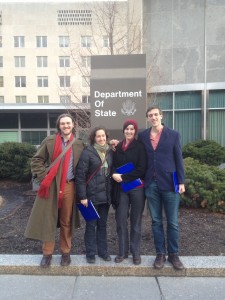 Anyway, we flew down to DC yesterday and had dinner with some Ashley, Shannon, and Bill who are our contacts from AMA, the DoS and the program evaluator. After a nice meal we got to put on a great little show at a retirement home in Foggy Bottom. The folks there were really appreciative and excited for our tour. Give Me Just a Little More Time was a huge hit as always and got everyone clapping along! Then this afternoon we had our meeting in the Department of State. We started by just introducing ourselves and why we decided to apply for this program. I spoke first and got to talk about my experiences growing up in the folk community, Village Harmony and my Watson Fellowship on sword dancing. As I was talking I realized how much informal cultural diplomacy I have been doing in my life. I love getting to find the human side of a new place and sharing a little bit of my culture with them. Lauren and I both overheard a program on NPR's On Point the other day which was talking about the world's perception of American culture in which they mentioned Louis Armstrong touring with one of the forbearers of American Music Abroad. We really are part of a long and wonderful history of showing a different side of American culture; a tradition where people sing together, not just listen to pop stars, and where music brings people together. We got a great introduction to culture, sights, and behaviors we should expect in each country. The folks there emphasized several times that we were really just going there to be ourselves, which was nice to hear. We don't have any agenda that we are pushing or any responsibility to represent the USA. We really are just going to make good connections and learn as much as we can about these new cultures. Oh, and we get a motorcade!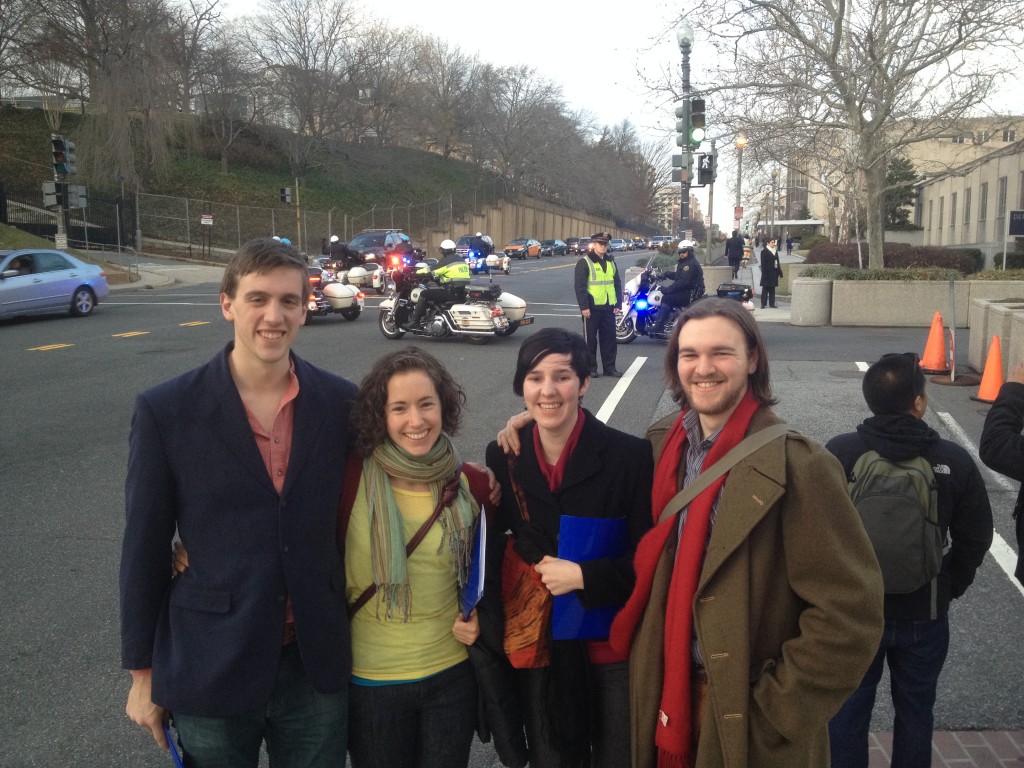 Just kidding, it was Vice President Biden, but that was pretty cool too! Now we're off to get dinner at DC restaurant week.
Did I mention WE LEAVE TOMORROW?!?!?!?